Click for
V-Line Index
Brute Pistol Case
Closet Vault
Compact Case
Desk Mate
Hide-Away Case
Quick Vault
Rifle Case
Shotgun Case
Top Draw XD Case
Locks

NEW!
Narcotics Security Box

The Quick Vault Model: 41214-S
Burglars and Children can easily find firearms and
valuables in their hiding places. Don't be a statistic!
Prevent this with the Quick Vault by V-Line.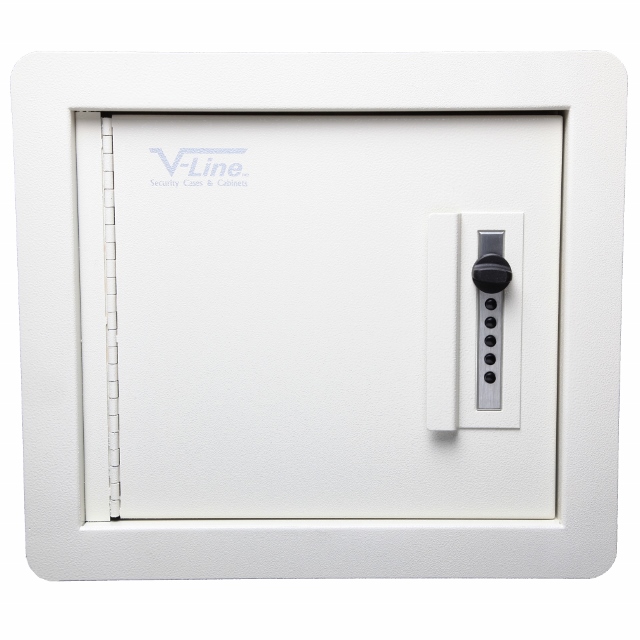 V-Line's Quick Vault is the perfect "Hiding Place" to secure small valuables and firearms without compromising quick and easy access, or interfering with room decor. The Quick Vault is designed to install in between the wall studs, the Case mounts flush with the wall's surface; hang a picture over the Quick Vault for complete concealment. The attached bezel or frame gives a clean finished look hiding the drywall cuts. The door of the Quick Vault is inset for both flush installation as well as maximum security. An inner steel frame gives added protection to the door guarding against prying attacks. The push button lock is mechanical offering quick and easy access with no batteries to fail or keys that can fall into the wrong hands. The combination is easy to set and change, with 1081 possible codes. Felt lining on the walls and back cushion contents. An adjustable felt lined shelf provides additional storage space. The Quick Vault is large enough to comfortably hold wallet, jewelry, and small valuables.
Standard Features:
Five button mechanical lock for quick access with 1081 possible combinations.
Lock bolts directly through the inner frame of case to prevent prying.
Prepunched holes for easy installation.
Three adjustable felt lined shelves included. Additional shelves available.
3/8" thick steel lock block welded to cover guides and adds strength to the lock bolt.
Anti-Pry Plates hold door securely.
Felt Lined back and walls protect contents.
Available in textured semi-gloss ivory powder coated finish.
Felt lined center shelf.
Outside Dimensions: 14" x 12" x 4"
Inside Dimensions: 13" x 11 1/4" x 2 1/8"
| | | |
| --- | --- | --- |
| Model Number | Price* | |
| 41214-S (with 3 Shelves) | $ 398 | |
| 41214-SH (Ivory Shelf Only) | $ 45 | |


* Ships via UPS Services