Click for
V-Line Index
Brute Pistol Case
Closet Vault
Compact Case
Desk Mate
Hide-Away Case
Quick Vault
Rifle Case
Shotgun Case
Top Draw XD Case
Locks

NEW!
Narcotics Security Box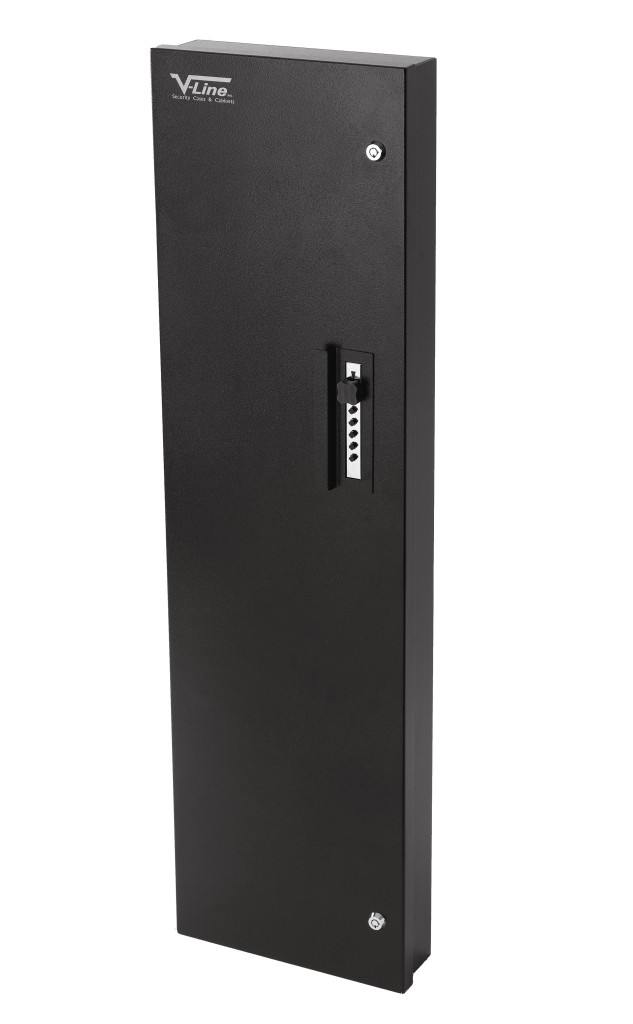 Rifle Case Model 31242-S/A
Features:
Top Opening Case
Five button mechanical lock allows quick access, No batteries to change or keys to lose
2 tubular key locks have been added for extra security when quick access is not required
May be installed horizontally or vertically
Holes pre punched in back for easy installation on top of most surfaces
Large enough to accommodate most long guns
Foam lined back, top and bottom
Velcro strap holds barrel in place and provides quick release
Available in low gloss black for the body, silver logo and stainless faceplate lock
42" x 12" x 3 1/2" Overall Outside Dimensions
40 1/2" x 10 1/2" x 3" Inside clearance
38 lbs.
| | | | |
| --- | --- | --- | --- |
| Model 31242-S/A Rifle Case | 38 lbs. | $ 388 | |
Following is the disclaimer that is required for Calif. sales: The State of California requires the following disclaimer for sales within the state. V-Line's Closet Vault model is legal to use and purchase inside Calif. However it is not classified as a "safe" as defined by CA DOJ and is not a registered "Firearm Safety Device", therefore it cannot be used for the purchase of a new firearm in the state of California WARNING: This gun safe does not meet the safety standards for gun safes specified in California Penal Code Section 12088.2. It does not satisfy the requirements of Penal Code Section 12088.1, which mandates that all firearms sold in California be accompanied by a firearms safety device or proof of ownership, as required by law, of a gun safe that meets the Section 12088.2 minimum safety standards developed by the California Attorney General. ADVERTENCIA: Esta caja fuerte para pistolas no cumple con las normas de seguridad para las cajas fuertes para pistolas especificadas en la Sección 12088.2 del Código Penal de California. No satisface los requisitos de la Sección 12088.1 del Código Penal, que requiere que todas las armas de fuego que se vendan en California estén acompañadas por un dispositivo de seguridad de armas de fuego o prueba de propiedad, como lo requiere la ley, de una caja fuerte para pistolas que cumpla con las normas de seguridad minimas elaboradas por el Procurador General de California, especificadas en la Sección 12088.2.