Return Estey Directory
Library Cantilever Bookshelves
Complete Units
Bookshelves
Double Face Bookshelves
Divider Units
Double Face Divider Units
Displays
Double Face Displays
Components To Enhance Your Shelving
or To Create Specialty Shelving
Steel Backs & End Panels
Canopy Tops
Signage & Lighting
Corner & Wall Fillers
Frames and Accessories
Base Shelf Options Shelves
Adjustable Shelves
Specialty Shelving
Periodical Displays
Cabinets & Workspaces
Media Display
Color Chart
Cabinets & Workspaces

All selections available in 36" (standard), 30" and 24" (narrow) widths,
and in one of 10 finishes. Click images for larger views if desired.
Chart below provides dimensions and pricing.



Cabinet
Ideal for storing valuable items that need to be secured. Includes flipper door and lock. 15 1/2" High x 17 5/8" Deep.

Sliding Reference Shelf
Sturdy full extension slides attach to underside of adjustable shelf (furnished separately). For double faced units, use two reference shelves. Available in depth of 8 - 12".



Storage Shelf
Used with sloped display shelves or any place a flat shelf is desired.


Integral Back Shelf
Bulit-in 2" backstop keeps items organized. Includes brackets and one wire divider per opening.


Work Shelf and Brackets
A handy integrated workspace. 24" deep plastic shelf supported by two steel triangular brackets for work surface within stack usage. Work surface is 24" deep and sits 27 1/2" high.
Color Finishes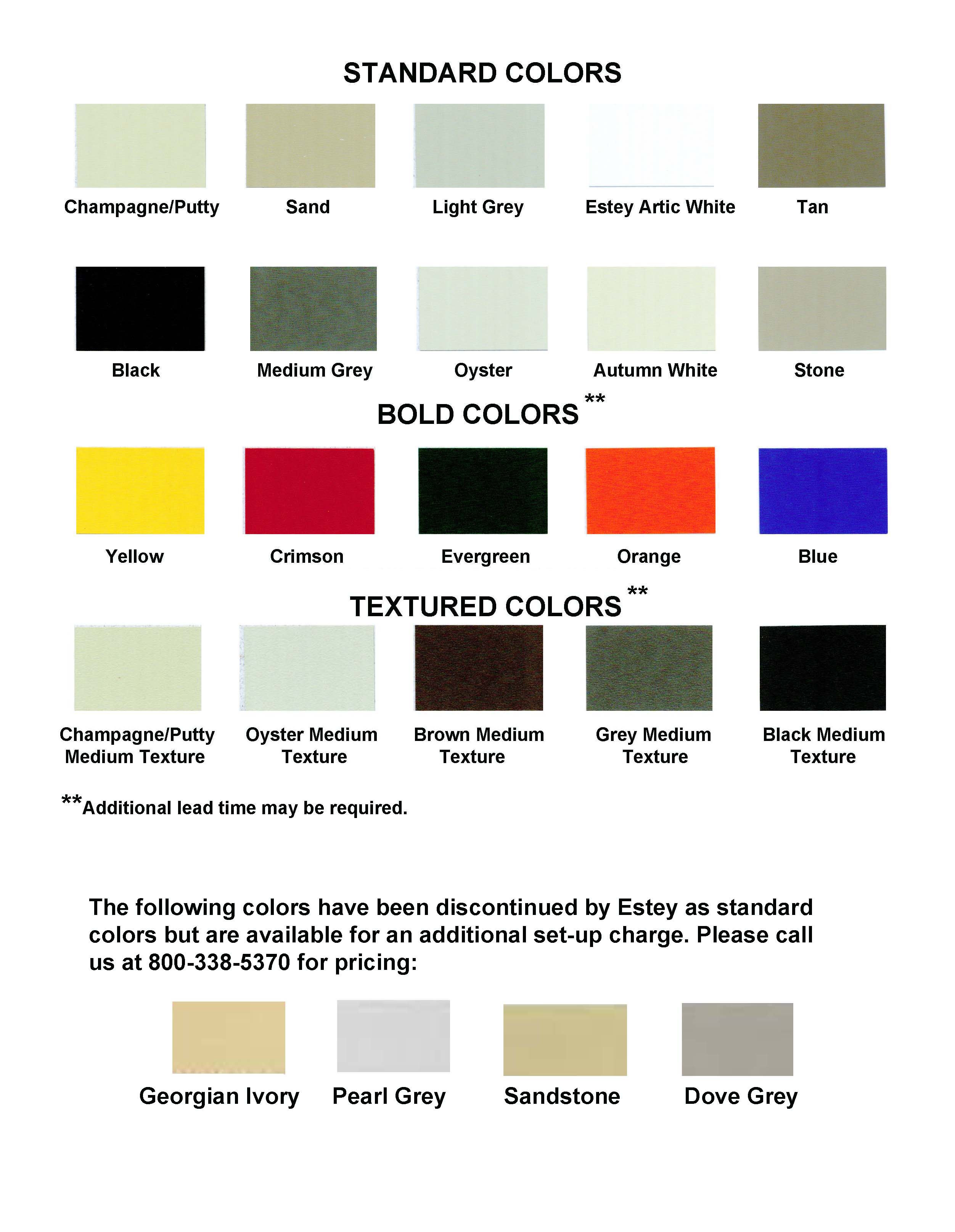 Pricing and Dimensions for Cabinet and Workspace Shelving Options

Prices do not include but are subject to a current steel price surcharge of 58.25% due to spiraling steel prices. The surcharge will be added to your order after checkout but the order will not be processed without your approval. Alternatively, you may submit your order for QUOTE only.
When ordering, specify color and width (36", 30" or 24")
[Note: There is a 25% up charge for 24" shelves.]
| | | | | |
| --- | --- | --- | --- | --- |
| Item Code | Description | Weight: | Price: | |
| FDCB36L | Cabinet Only, 36"W x 17 5/8"D x 15 1/2" H | 53 lbs | $919.33 | [ADD TO CART] |
| SRS3608A | Sliding Reference Shelf, 8" Deep | 7.4 lbs | $169.33 | [ADD TO CART] |
| SRS3609A | Sliding Reference Shelf, 9" Deep | 6.1 lbs. | $145.33 | [ADD TO CART] |
| SRS3610A | Sliding Reference Shelf, 10" Deep | 11.5 lbs | $166.67 | [ADD TO CART] |
| SRS3612A | Sliding Reference Shelf, 12" Deep | 13.6 lbs | $178.67 | [ADD TO CART] |
| IN3610A | Storage Shelf, 10" deep | 7.0 lbs | $29.33 | [ADD TO CART] |
| IN3612A | Storage Shelf, 12" deep | 8.2 lbs | $232.00 | [ADD TO CART] |
| IN3613A | Storage Shelf, 13" deep | 8.7 lbs | $38.00 | [ADD TO CART] |
| IN3614A | Storage Shelf, 14" deep | 9.6 lbs | $40.67 | [ADD TO CART] |
| IN3616A | Storage Shelf, 16" deep | 10.6 lbs | $44.00 | [ADD TO CART] |
| IN3618A | Storage Shelf, 18" deep | 11.8 lbs | $51.33 | [ADD TO CART] |
| IN3619A | Storage Shelf, 19" deep | 12.5 lbs | $54.00 | [ADD TO CART] |
| BLIB3608A | Integral Back Shelf, 8" Deep | 7.4 lbs | $40.00 | [ADD TO CART] |
| BLIB3609A | Integral Back Shelf, 9" Deep | 8.3 lbs | $42.67 | [ADD TO CART] |
| BLIB3610A | Integral Back Shelf, 10" Deep | 9.1 lbs | $47.15 | [ADD TO CART] |
| BLIB3611A | Integral Back Shelf, 11" Deep | 10.1 lbs | $48.00 | [ADD TO CART] |
| BLIB3612A | Integral Back Shelf, 12" Deep | 10.8 | $52.00 | [ADD TO CART] |
| BLIB3613A | Integral Back Shelf, 13" Deep | 11.1 lbs | $58.00 | [ADD TO CART] |
| BLIB3616A | Integral Back Shelf, 16" Deep | 14.3 lbs | $66.67 | [ADD TO CART] |
| EWD-1 | 8"D Wire Divider for Integral Back Shelf | .4 lbs | $8.33 | [ADD TO CART] |
| EWD-2 | 12"D Wire Divider for Integral Back Shelf | .6 lbs | $9.33 | [ADD TO CART] |
| LC54A | Work Shelf and Brackets | 30.0 lbs | $681.33 | [ADD TO CART] |
| LCL | Work Shelf - Legs Only | 3 lbs | $86.67 | [ADD TO CART] |
| LCBRK24L | Work shelf - Left Bracket Only | 3.6 lbs | $87.33 | [ADD TO CART] |
| LCBRK24R | Work Shelf - Right Bracket Only | 3.6 lbs | $87.33 | [ADD TO CART] |