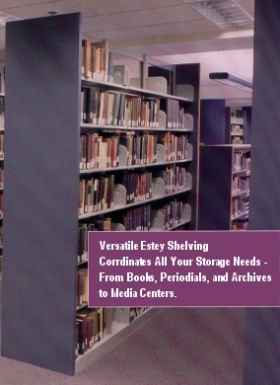 Weld Frame Library Shelves
True unit construction to ease rearrangement of bookstacks
Elimination of sway braces to allow over sized media to pass center line of bookstack
Six-point, fully adjustable levelers (optional) on each double-face section (Four-point on each single-face section)
Choice of standard one piece base shelf construction or premium two piece base-recessed kick plate in the black powder epoxy finish
Wrap around base bracket design
Superior multibend uprights with twice the right angle bends (16) of others
2 1/2" deep profile provides extra lateral stability
Current prices do not include but are subject to a current steel price surcharge of 18.5% which will increase to 30.75% on July 1st due to spiraling steel prices. The surcharge will be added to your order after checkout but the order will not be processed without your approval. Alternatively, you may submit your order for QUOTE only..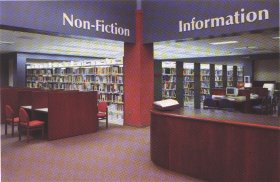 Library Cantilever Bookshelves
Complete Units
Single Face (no backs)
Double Face (no backs)
Single Face (with integral backs)
Double Face (with integral backs)

Single Face Divider Units
Double Face Divider Units

Periodical Displays
Display Shelf Units

Components To Enhance Your Shelving or To Create Specialty Shelving
Steel Backs & End Panels
Canopy Tops Signage & Lighting
Corner and Wall Fillers
Frames and Accessories
Base Shelf Options Shelves
Adjustable Shelves

Specialty Shelves
Periodical Displays
Cabinets & Workspaces
Media Display