Return Hale Directory
48 Series
200 Series
200 Showcase
300 Series
Lateral File
Vertical File
500 Series
Library Series
800 Series
1100 Series
Accessories
Sliding and Hinged Door Options
Finishes
1100 NY Series Bookcases
Free Shipping!
1100 NY Series - 11 3/4" to 16 3/4" Deep High quality at a great value have made the 1100 NY series an industry standard and the bookcase of choice for volume installation. For years, the 1100 NY Series has served the need of Schools, Universities, Hospitals and Offices across the nation. The space saving 1100NY series, featuring an elegantly simple line is a bookcase that is a perfect blend of quality, styling and functionalism. The wide selection of standard finishes on Walnut, Oak and Birch, in sizes ranging from desk height up to 84" high, have made the New Yorker Series the workhorse of the Hale line.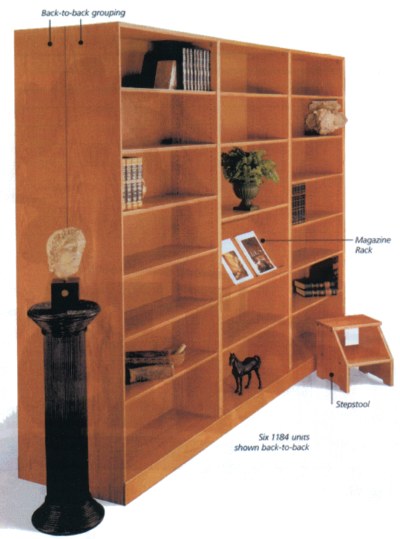 Designed with beveled front edges and lock joint mitered corners with no over-hanging edges. These Hale cases allow for easy installation for end to- end or back-to-back groupings creating a custom built look. Each case has a solid lumber base front and 1/4" printed back. The shelves are constructed of 3/4" solid hardwood lumber with a 2" front edge of Birch,Walnut or Oak, finished to a uniform color. Each shelf has a load bearing weight of 150 pounds. Cases over 48" are shipped with one semi-permanent shelf. For your installation convenience, the 84" is equipped with heavy adjustable glides on the front corners and all cases allow for shelf adjustment at 1" intervals.
| | |
| --- | --- |
| Deep Storage: For the person with a need for more space we have the deep storage option for all the 1100 NY series bookcases. Shelf depth is 14 3/4" behind doors or 16 1/8" for the open case. Step Stool: Step up to quality on a Hale step stool. Constructed of solid Adirondack Birch and newly designed with a knock in fastening system for durability plus stability. Finished in Walnut or Birch tone, our step stool is 14 1/2" W x 14 1/2" H x 14 1/2"D. | |
A general purpose bookcase with many options

13/16 inch thick veneered panels
3/4 inch thick solid wood shelves
Beveled edge profile
Glass or wood sliding doors and hinged doors available. Click here for options and pricing
Inside and Outside Corner Units allow easy contouring to room walls.
Veneered finished backs for center room installation
Task desk insert available

Accessories include magazine racks, CD and Lateral File Drawers and Built-in Book Ends for customized perfection.
Coordinating Denmaster w/ Glass Hinged Double Doors also available.

FINISHES (CLICK ON IMAGE FOR LARGER SIZE)

FREE Freight Service is Dock-to-Dock in US 48 for orders more than 300lbs. For lift gate and/or inside delivery or for residential service, please select the freight option for this service in the shopping cart. For orders under 300 lbs. a freight charge of $40 will be applied except for items shipped via UPS.
Standard Depth Shelving (36"W x 11 3/4" Deep)
To ADD TO CART, Click on Item Price.
| | | | | |
| --- | --- | --- | --- | --- |
| Item Code | Shelves: | Height: | LBS | Price |
| 1130NY | 1 | 30" | 55 | $ 565 |
| 1136NY | 2 | 36" | 65 | $ 662 |
| 1148NY | 3 | 48" | 85 | $ 832 |
| 1160NY | 4 | 60" | 105 | $ 1,055 |
| 1172NY | 5 | 72" | 120 | $ 1,192 |
| 1184NY | 6 | 84" | 135 | $ 1,348 |
| 1100NY-Shelf | Additional Shelf | - | - | $ 50 |
Deep Storage Shelving (36"W x 16 3/4" Deep)
| | | | | |
| --- | --- | --- | --- | --- |
| Item Code | Shelves: | Height: | LBS | Price |
| 1130-17-0 | 1 | 30" | 70 | $ 788 |
| 1136-17-0 | 2 | 36" | 85 | $ 902 |
| 1148-17-0 | 3 | 48" | 110 | $ 1,152 |
| 1160-17-0 | 4 | 60" | 135 | $ 1,478 |
| 1172-17-0 | 5 | 72" | 160 | $ 1,628 |
| 1184-17-0 | 6 | 84" | 175 | |
| 1100-17-Shelf | Additional Shelf | - | - | $ 60 |
Outside Quarter Round (11 3/4"W x 11 3/4"D)
| | | | | |
| --- | --- | --- | --- | --- |
| Item Code | Shelves: | Height: | LBS | Price |
| 1130QR | 1 | 30" | 20 | $ 565 |
| 1136QR | 2 | 36" | 25 | $ 662 |
| 1148QR | 3 | 48" | 30 | $ 832 |
| 1160QR | 4 | 60" | 37 | $ 1,055 |
| 1172QR | 5 | 72" | 42 | $ 1,192 |
| 1184QR | 6 | 84" | 50 | $ 1,348 |
| 1100QR-Shelf | Additional Shelf | - | - | $ 75 |
Inside Corner (24"W x 11 3/4"D)