Return to Index
Challenger Display Cases

Champion Display Cases

Colossus Display Cases

Edge Display Cases

Heirloom Display Cases

Heritage Display Cases

Keepsake Display Cases

Legacy Display Cases


Merchandiser Retail Display Cases
Recessed Wall Display Cases

Reliant Display Cases
Recessed Display Cases

Handsome Recessed Wall Cases Save Space and
Offer Eye-Catching Display of your Trophies and Treasures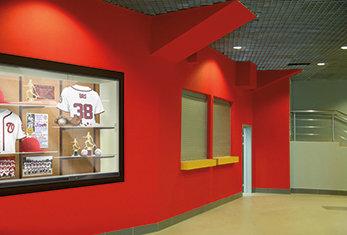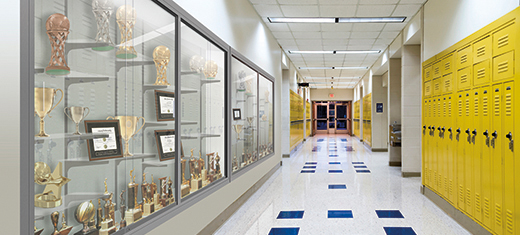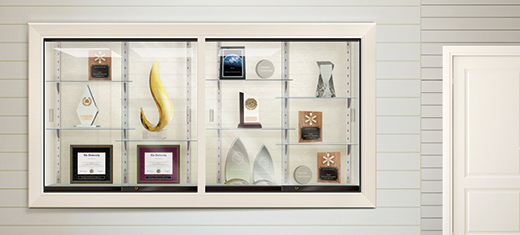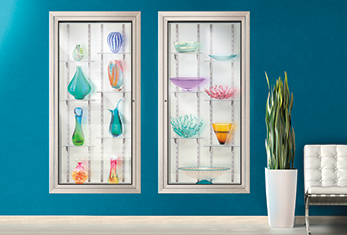 Recessed Wall Display Cases
Whether part of a remodeling project or new construction, Waddell Recessed Cases are the perfect fit. The built-into-the-wall design allows for a high degree of security with an absolute minimum of free space. Sliding tempered glass doors with ground-in finger pulls, built-in locks, steel shelving hardware, and white laminate interior side panels are standard. Special design allows for easy installation by a qualified installer and a precise fit into rough wall openings..

Standard Sizes
48"L × 48"H × 16"D | 60"L × 48"H × 16"D
72"L × 48"H × 16"D | 96"L × 48"H × 16"D
Custom Sizes
Width: Up to 96" opening for one box. (Rough opening can be wider and contain multiple boxes.)
Height: Up to 72"H for fully framed door; up to 60"H for unframed door; up to 48"H for hinged door.
Depth: Overall case depth 4" up to 36" (standard is 16").
The cork back is available in the following colors:




Plus, custom laminates from:




Specifications and Options
Shelving:
Glass shelves from 4" to 14" deep (standard is 12" for 16" deep case). By attaching standards to sides of case, shelves can be full depth on 48" case.
Back, Sides, Top, and Bottom:
White, veneers, vinyls, customer chosen laminates from Wilson Art, Formica, or Pionite Backs – cork, textiles, textiles over cork (tackable)
Doors:
Sliding or hinged tempered glass doors.
Lighting:
Optional box fluorescent lighting mounted inside of the box.
Minimum 15" deep opening for lighting.
Miscellaneous:
1" flange surrounds the case and a 2" face to create a finished look on-site, and it is ultra thin (1/16") to fit snugly against the wall.
Actual case measurements will be approximately 1/2" less than overall opening to allow for adjustments on location.
Drawings will be provided and need field verification before production begins.
When multiple boxes are utilized, a 2-1/4" spacer (wood) is provided for connecting the boxes side by side.
Call us at 800-338-5370 to receive a price quote
for your custom recessed wall cabinet or select from our standard sizes below

1400 Series (Aluminum Frame)
Item Number
Case Back
Frame Color
Dimensions
Weight (Lbs.)
Price*:
14404-WB-SN
White
Satin
48"L x 48"H
325
$ 2,402.89
[ADD TO CART]
14404-WB-BZ
White
Dk. Bronze
48"L x 48"H
325
$ 2,402.89
[ADD TO CART]
14404-CK-SN
Cork
Satin
48"L x 48"H
325
$ 2,402.89
[ADD TO CART]
14404-CK-BZ
Cork
Dk. Bronze
48"L x 48"H
325
$ 2,402.89
[ADD TO CART]
14405-WB-SN
White
Satin
60"L x 48"H
350
$ 2,649.04
[ADD TO CART]
14405-WB-BZ
White
Dk. Bronze
60"L x 48"H
350
$ 2,649.04
[ADD TO CART]
14405-CK-SN
Cork
Satin
60"L x 48"H
350
$ 2,649.04
[ADD TO CART]
14405-CK-BZ
Cork
Dk. Bronze
60"L x 48"H
350
$ 2,649.04
[ADD TO CART]
14406-WB-SN
White
Satin
72"L x 48"H
370
$ 3,036.14
[ADD TO CART]
14406-WB-BZ
White
Dk. Bronze
72"L x 48"H
370
$ 3,036.14
[ADD TO CART]
14406-CK-SN
Cork
Satin
72"L x 48"H
370
$ 3,036.14
[ADD TO CART]
14406-CK-BZ
Cork
Dk. Bronze
72"L x 48"H
370
$ 3,036.14
[ADD TO CART]
14408-WB-SN
White
Satin
96"L x 48"H
510
$ 4,163.86
[ADD TO CART]
14408-WB-BZ
White
Dk. Bronze
96"L x 48"H
510
$ 4,163.86
[ADD TO CART]
14408-CK-SN
Cork
Satin
96"L x 48"H
510
$ 4,163.86
[ADD TO CART]
14408-CK-BZ
Cork
Dk. Bronze
96"L x 48"H
510
$ 4,163.86
[ADD TO CART]
20401-4
Factory Installed Light Fixture for 48"L Case
25
$ 538.92
[ADD TO CART]
20401-5
Factory installed interior light fixture 60" and 72" cases
25
$ 560.60
[ADD TO CART]