Return to Workplace Organization


Organizing Desktops
Desktop Risers
Economy Storage Organizers
Mesh Desk Organizers
Mesh Magnetic Panel Organizers
Mesh Wall Pockets
Mesh Workstation Organizers
Onyx™ Mesh Desk Top Organizers
PanelMate Organizers
Reference Systems
Steel Desk Racks
Steel Wall Pockets
NEW!
SNEEZE GUARDS

Desktop Risers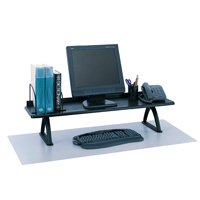 3603BL, 42" Desk Riser
A Desk Riser with a little more extra. The extra wide, 12" deep, shelf allows for binder, telephone, monitor, deskjet printer or other desk accessories to be stored. Shelf dividers keep books and binders upright and orderly. Features include a 3/4" x 1-1/2" retainer lip in the rear. Constructed with a melamine top and cast aluminum legs.
Color: Black
W x D x H: 42 x 12-1/8 x 8-1/4"
Capacity: 100 lbs.

MODEL
DESCRIPTION
DIMENSIONS
W x D x H
PRICE
3603BL
42" Desk Riser. Black.
42 x 12-1/8 x 8-1/4"
$ 151.33