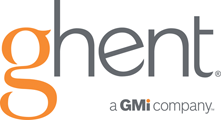 Return Ghent Index
Presentation Tools:
Conference Cabinets
VisuALL PC Cabinets
Display & Maprails + Accessories
Ghent VisuALL PC Cabinets
VisuALL PC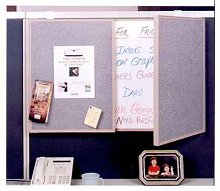 Developed for individual offices, panel systems and small meeting rooms, the VisuALL PC combines an erasable markerboard surface with a useful fabric tackboard. The outer fabric tackboard hinges open from the center to reveal the markerboard or closes for privacy. Compact enough for small spaces, the VisuALL PC is suprisingly generous in size.Opening to an ample 72" of markerboard surface, the unit closes to 36" of convenient fabric tackboard available in your choice of gray, blue or beige fabric. Each VisuALL PC comes complete with mounting accessories for easy attachment to walls or for hanging from divider panels, and may be shipped via UPS. Best of all, VisuALL PC is priced so reasonably that you could purchase two for the price of a traditional wood cabinet.
VisuALL PC Cabinets