Available in sizes from 60" to 240" diagonal in 16:10 WIDE format and 92" to 220" diagonal in 16:10 WIDE format.

Cinema Contour has a 45-degree angle cut frame for a sleek, modern appearance.

Provides a perfectly flat viewing surface for 16:10 WIDE projection applications.

Surface mounts to the back of an aluminum frame that provides a masking border.

Frame standard with Pro-Trim finish, a fabric frame covering that aesthetically enhances the appearance of the installation while absorbing light that surrounds the viewing area.

Frame now also available with your choice of seven veneers for an additional charge. Choose from: Cherry, Mahogany, Light Oak, Natural Walnut, Medium Oak, Honey Maple and Heritage Walnut. Your custom veneer can also be matched.

Da-Mat, High Contrast Da-Mat, Da-Tex (Rear), and Dual Vision up to and including 16' high will be seamless.

Audio Vision, High Contrast Audio Vision and High Contrast Cinema Perf fabrics up to and including 8' high will be seamless.



Front projection surfaces standard with black backing for opacity.

An optional choice of seven veneer finishes are also available for the front cover of the screen case for a warm, elegant look.

Veneers from left to right (top row) Honey Maple, Medium Oak, Heritage Walnut, Mahogany, (bottom row) Light Oak, Natural Walnut, Cherry.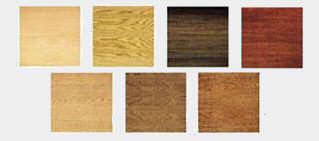 You will be asked for a veneer selection once you enter the shopping cart