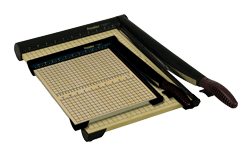 The intro to our line of wood board units, the SharpCut™ series features a heavy duty 1/2" thick wood base. Premium features include self-sharpening stainless steel blades and the ability to cut up to 15 sheets at one time.

Heavy-duty 1/2" thick wood base

Self-sharpening stainless steel blades cut up to 15 sheets at once

Permanent 1/2" grid and dual English and Metric rulers ensure proper alignment

Patented automatic blade latch locks with every cutting motion

Finger guard protects entire blade length

Torsion spring prevents blade from accidentally falling during operation

Non-skid rubber feet

Available as 12" and 15" models

Made in the U.S.A.