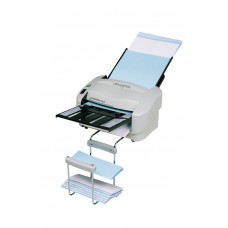 Perfect addition for smaller mailrooms, offices, churches and associations.
Folds 8-1/2" x 11" and 8-1/2" x 14" of 16lb to 28lb. bond, 60GSM to 105GSM
Automatically feeds and folds a stack of documents
Stacking tray for convenient folded document collection
Automatic shut off
Specifications:
Paper Folding Capacity: up to 4,000 sheets per hour
Electrical: 115v/220
Dimensions: 13" W x 20" D x 10 1/2" H
Manual Paper Feed: up to 3 sheets
Feed Tray Capacity: up to 50 sheets
Weight: 17 lbs.