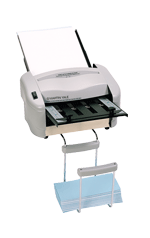 The Martin Yale® P7200 is a one of a kind machine in its category. Small and easy to store, this machine does most common folds and a continuous feed of up to (50) sheets of 20# Bond Stock. Able to accommodate most copy papers and letterheads, this unit is sure to be a success in any small office or moderate mailing environment. Because of the size of the unit, this machine cannot do heavier materials. If you have any doubt which machine is the right choice, Martin Yale® offers free form testing for most machines in their line.
Handles A4 and 8.5" x 11" Paper

Standard folds include 1/2 fold, tri fold and double parallel fold.

Continuous feed from stack placed in feed tray. No fanning of stack necessary.

Easily accessible components for maintenance purposes.