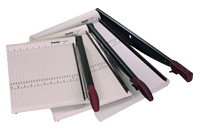 Premier PolyBoards™ use an unbreakable molded base for a lifetime of use. Ideal for use in schools, churches, offices, art rooms and hobby shops. Premium features include standard and metric scales and a 1/2" cutting grid. Units are available in 3 sizes.

Unbreakable PolyBoard base guaranteed for a lifetime of use

self-sharpening stainless steel blades cut up to 10 sheets at once

Permanent 1/2" grid and dual English and metric rulers ensure proper alignment

Patented automatic blade latch locks with every cutting motion

Finger guard protects entire blade length

Torsion spring prevents blade from accidentally falling during operation

Non-skid rubber feet

Lifetime limited warranty (includes blades)

Available in 12", 15" and 18" versions

Made in the U.S.A.