Return to Index
Commercial Safes
Single Door Depositories
Double Door Depositories
Economical Depositories
Under-Counter Depositories
Cash Register Tray
Commercial In-Floor Safes
Commercial High Security
In Room Safe
Residential Safes
Two-Hour Fire Safes
Two-Hour Fire Safes (Large)
One-Hour Fire/Burglary Safes
Two-Hour Fire/Burglary Safes
One-Hour Microwave Safes
Dual Security Safe within a Safe
"B" Rated Money Chests
Safe/Chest Combination
Specialty Safes
Data Media Safes
One-Hour Record Safes
Firelined Gun Safes
Premium Wall Safes
Economical Wall Safes
Insulated Wall Safes
Parts Listing
U.L. Burglary-Rated 1 Hour Fire Safes
All GBF safes were tested by the manufacturer along side a U.L. listed one-hour fire safe in an independent fire testing facility. The GBF safe actually outperformed the U.L. fire safe by 15 minutes. The exterior of the safe was heated to 1700°F for one hour and during that time the interior temperature of the safe was less than 270°F. A letter of certification is available upon request. All GBF safes carry Gardall's Lifetime Replacement Guarantee.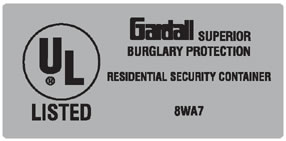 Standard Features
Door: 11/2" profile door panel with overall 4" thickness, insulated for protection against fire, with a "B" burglary rating.
Body: 1/8" plate steel with 21/2" of insulation and a metal inner shell.
Anti Burglary Components:

Hard plate to deter drilling.
Independent re-locking device.
Solid steel handle designed to shear off under attack.
Three massive 1" round chrome plated locking bolts.
Full length locking bar on hinge side of safe deterring prying attacks.
One anchoring hole in base for easy bolt down. (hardware included).
Lifetime Replacement Guarantee Intumescent seal to ensure a positive door seal in case of fire. Labels. Intumescent means an expandable door seal meant to protect your valuables from fire, smoke, and water damage.
U.L. Residential Security Container Burglary Label (RSC) Manufacturer's 350° 1 Hour Fire Label
Lock Options: Electronic, Combination, Single Key Deluxe Option (additional charge applies)
Gold handle, dial and trim with Hunter Green, Black, and Maroon
Standard colors: Gardall gray or sandstone.
DESCRIPTION and PRICING
Model
Description:
Approx.
Weight:
Price:
BF1713
Burglary Safe with 1 shelf
Outside Dimensions: 21¼"H x 18¼"W x 20¼"D
Inside Dimensions: 16½"H x 13"W x 13¼"D
Cubic Inches: 2,842
355 lbs.
$ 1,898.00
[ADD TO CART]
BF2016
Burglary Safe with 1 shelf
Outside Dimensions: 25¼"H x 21¾"W x 22 1/8"D
Inside Dimensions: 20"H x 16½"W x 15¼"D
Cubic Inches: 5,032
470 lbs.
$ 2,125.00
[ADD TO CART]
BF3318
Burglary Safe with 2 shelves
Outside Dimensions: 38¼"H x 23"W x 26¼"D
Inside Dimensions: 33"H x 17¼"W x 18"D
Cubic Inches: 10,246
796 lbs.
$ 2,75.00
[ADD TO CART]
* Safes ship via Freight Services.
Freight Service is Dock-to-Dock in US 48.
For lift gate and/or inside delivery or for residential service,
please select the freight option for this service in the shopping cart.
Additional charges will apply.